The Indian Karigar
Karigars (craftsmen) are the soul of the Indian Ethnic Clothing. Designers are the brain behind any beautiful outfit, but each outfit becomes ethereal because of the exquisite handwork done by craftsmen, the true creators. We take pride in calling ourselves The Indian Karigar as we are focused on being the best at detailing, quality and craftsmanship.
Explore our process
About The Brand
We understand Indian women and their unique individuality. Every women has a distinct personality and she expresses it through her original style. Then why do they need to wear same run of the mill outfits which comes in standard sizes and same designs , which many other people are already wearing. She is unique and she needs a unique style statement. We customize and create bespoke outfits suited to her individual style and create an outfit which is her own in true sense, designed and crafted only for her.
We understand their need to look their best in every dress they adorn. Personified with their style and expression a women's imagination and creativity knows no bounds. Very diligently we convert your imagination into reality through our Bespoke designing and impeccable fit crafted in luxury fabrics and high-end craftsmanship, custom made to your measurements and delivered right at your doorsteps, right in time for you to dazzle the world every single time.
Design Philosophy
At Karigars, we are determined to give you a dress that is your own in it's true sense - from selection of fabric to choice of colors, from details of craftsmanship to choice of embellishments, we let you decide it all.
Bespoke being our forte, you are the designer we listen to and follow. We step in to make your designs breathtakingly beautiful with the detail oriented design team & excellent craftsmanship but you call the shots. We take pride in our transparent process which let's you see and approve the dress at every stage and make changes, if need be.
As expert craftsmen, Nuances of embroidery techniques and Purity of fabric with High quality craftsmanship and Perfect fittings is what we offer.
Services
We at The Indian Karigars, are expert craftsmen who are here to serve you for your various outfit needs. Right from converting your imagination and inspiration to your dream outfit, by designing and crafting it, to redesigning and re creating your grandma's old closet and creating beautiful outfits filled with nostalgia and memories, we do all, that is customized and bespoke.
If you already have beautiful silk fabrics or plain old sarees and you wish to get them embroidered we do it for you. If you have wish to get that designer outfit stitched and you can not trust anyone with the style, we ll stitch it for you. Right from Bridal lehengas to saree gowns, from Blouses to Anarkalis, From Patialas to Gowns.
Outfit Designing
and Making
Embroidery
solutions
Stitching
Solutions
Re designing & Remaking
of Old Outfits
Craftsmanship
Karigars and Karigari is the essence of our existence. Those exquisite bridals and breathtaking styles are crafted by those numerous diligent hands. The hands which are not visible when we cherish and applaud a spectacular outfit. We admire and value those hands at The Indian Karigar. Our crafts and craftsmanship is not restricted to Our Embroideries, it prevails in every aspect of our work and is imbibed in our Designing, Styling, Pattern MAking, Draping, Dyeing, Printing, Stitching and Packaging.
You can experience that craftsmanship From our Inspirations to Moodboards, From Designs to Sketches, From Patterns to Khakhas, From Zardozis to Zari, From Resham strings to Gota Patti, From Swatches to Samples, From Modern Drapes to Traditional Kalidars, From Bridal Lehengas to Cocktail Gowns.
Our Team
We take pride in our extremely skilled and professional team of Design Karigars, Style Karigars Embroidery Karigars, Stitching Karigars, Pattern Karigars, Khaka Karigars, Dye Karigars and Finishing Karigars.
We believe every person working here for the creative pursuit, be it a Designer, Stylist, Tailor, Master or Embroider, everyone is a Karigar (Craftsman) in its own sense and every task they perform to complete your dream ensemble is a craft in itself !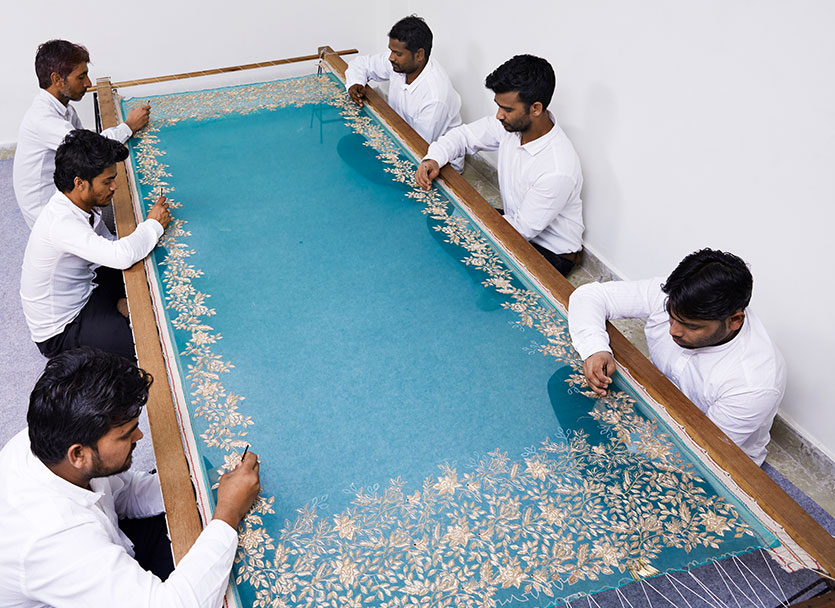 Our Workshop
Our corporate office and studio workshop imbibes the craft and excompasses a passionate team which brings their expertise and knowledge to design and craft the outfits of your dreams.
Our workshop incorporates end to end processes of crafting the outfits, which involves designing, sketching, fabric sourcing, fabric testing, dyeing, khaka making, embroidery sampling, draping, embroidery techniques, pattern making, stitching and final making of the outfit.
We follow standards of highest quality to make sure that your outfit is well crafted as well as it offers you a perfect fit with minutest detailing and finishing. Your design + Our expertise = Perfect fitted dress to suit your heart and make those heads turn every time!
Explore our portfolio
The designing is fabulous ! The material quality is remarkable !
I've always received my orders on time and the final output has always been more than satisfying .
The hardwork in the clothes is clearly visible and gives that over the top look .
In short the ' karigari ' done is beautiful.
Artist from India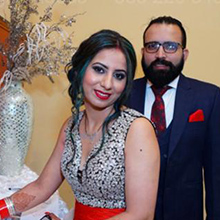 This is best service and designer I have seen in my whole life . The elegancy and interest in providing you the satisfying experience can be easily seen in the outfits they design for you. The most interesting and unbelievable fact is that their team understands what you want over the phone and answers all your queries patiently . I never met any of them in person , only talked from United States over the phone and she always send outfits overseas or in India on time , and understand the changes to be done even after the order is complete.
And also I wanted to add on that since you customized my clothes , I can not try anyone else , because no one else can bring that satisfaction when we wear your outfits . "The Indian Karigar' you Rock! Thank you for making me look so good on all the occasions just because of you . Hope to work again with you soon.
Bride from United States
Having a family wedding, over the last 2 years I have ordered a few outfits for myself and my daughter who is a fussy 14 year old and I can honestly say The Indian Karigar have always delivered value. Quality and Service has been a 101% My sons 21st is coming up and we are going to place and order real soon for that.
Country - UK